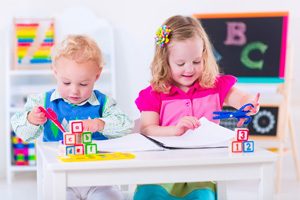 The pre-school children (young 3's to young 4's) take full advantage of the variety of material available to them. In this stage of a child's life, the world is filled with wonder, and there are many questions to be asked and answered. Teachers challenge the children with continually changing themes and materials within the classroom. Many of the ideas come from the children themselves. The classroom offers activity areas which include blocks, manipulative, water and sand, dramatic play, a quiet book corner and art. Large motor development skills will be challenged on the playground outdoors, . Children this age can now play cooperative, and begin to problem solve on their own. Their attention span is to a point where they can work on more involved projects, and play simple games. All of this together make up the preschool program at The First Path Day Care Center.
A typical day for preschoolers include the following activities:
Free Play

– With a teacher's guidance, we help a child learn to make independent choices and thereby gain self-confidence. Each child learns to use materials appropriately within a structured setting.
Arts and Crafts – These are included in the daily activities to encourage the expression of each child's natural creativity. They involve such materials as paint, glue, crayons, paper, play dough and collage.
Music and Story Reading – Periods provide an environment rich in language. Songs and stories are chosen which reinforce the weekly theme.
Outdoor Play – Offered daily, allowing children to run about, swing, climb and ride tricycles.
Dance – Classes are offered each week. Children participate in creative movement.
Special Activities – These include a weekly session with our music specialist, in which children are encouraged to sing, dance and play instruments.

Meals

– The First Path Day Care Center provides two healthy snacks each day. Children bring their lunch from home.
Rest Time – Each child is assigned a sleep mat to rest on within their classroom. Parents are asked to bring in a crib size sheet and a light blanket to keep at school.